Shuttle Service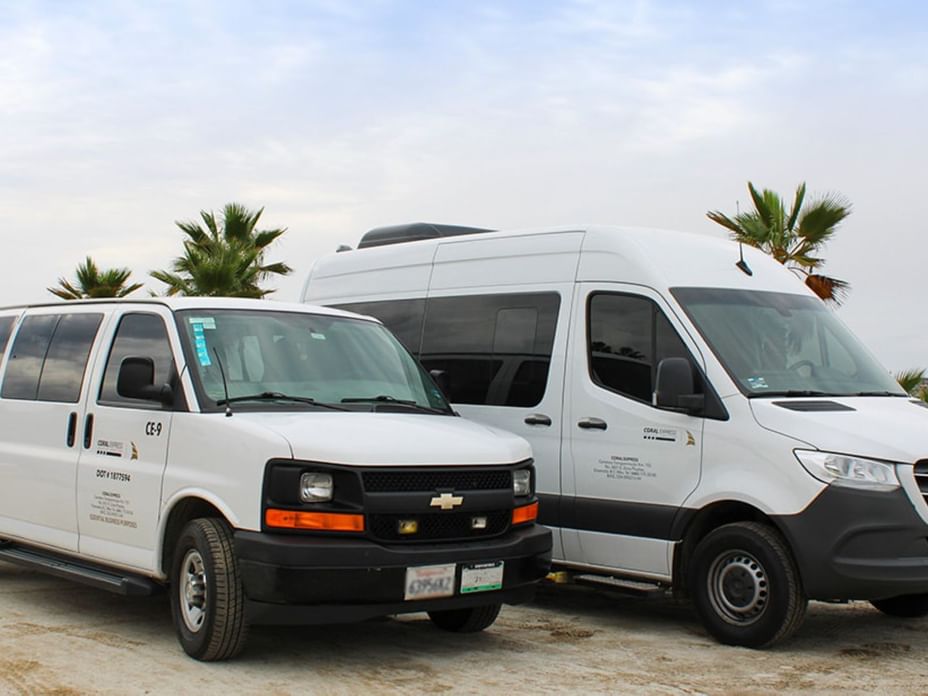 Hotel Coral & Marina is pleased to offer transportation to a variety of destinations in Baja and Southern California. Popular destinations include the San Diego train station, Tijuana airport and marinas in Southern California. The hotel also offers shuttle service to West Marine in San Diego, CA, every Monday and Friday.
We can even arrange a safe and private transfer directly to your home. Shuttles are available for up to 10 people.
The Hotel also provides transportation to Ensenada's regional wineries. Guests can tour the Valle de Guadalupe vineyards or the Santo Tomas route. Each tour includes three visits to wineries of your choice for up to 3.5 hours.
| | | |
| --- | --- | --- |
| Departure | Arrival | Rate (van 4-10 pax) |
| Ensenada | Tijuana | $300 dlls |
| Ensenada | San Diego | $480 dlls |
| Ensenada | La Jolla | $480 dlls |
| Ensenada | Del Mar | $480 dlls |
| Ensenada | Encinitas | $480 dlls |
| Ensenada | Carlsbad | $570 dlls |
| Ensenada | Oceanside | $570 dlls |
| Ensenada | San Clemente | $570 dlls |
| Ensenada | Dana Point | $675 dlls |
| Ensenada | Laguna Beach | $675 dlls |
| Ensenada | Irvine/Orange County | $675 dlls |
| Ensenada | Newport Beach | $750 dlls |
| Ensenada | Huntington Beach | $750 dlls |
| Ensenada | Long Beach | $750 dlls |
| Ensenada | Redondo Beach | $750 dlls |
| Ensenada | Los Angeles | $750 dlls |
| Ensenada | Marina del Rey | $750 dlls |
| Ensenada | Ciprés | $150 dlls |
| Ensenada | Bajamar | $170 dlls |
| Ensenada | Bufadora | $200 dlls |
| Ensenada | Puerto Nuevo | $250 dlls |
| Ensenada | Valle de Guadalupe | $360 dlls |
| Ensenada | Valle de Santo Tomás | $360 dlls |
| Ensenada | Valle de Ojos Negros | $360 dlls |
| Ensenada | Mexicali | $400 dlls |
| Ensenada | San Pedro Mártir | $600 dlls |
| Ensenada | Parque Constitución | $350 dlls |
Sedan Services
| | | |
| --- | --- | --- |
| Departure | Destination | Rate (​​sedan 1-3 pax) |
| Ensenada | Tijuana | $200 dlls |
| Ensenada | Ciprés | $125 dlls |
| Ensenada | Bajamar | $150 dlls |
| Ensenada | Bufadora | $180 dlls |
| Ensenada | Puerto Nuevo | $225 dlls |
| Ensenada | Valle de Guadalupe | $240 dlls |
| Ensenada | Valle de Santo Tomás | $240 dlls |
| Ensenada | Valle de Ojos Negros | $240 dlls |
| Ensenada | Mexicali | $360 dlls |